In "Beijing Hotel" can you meet Chinese native speakers?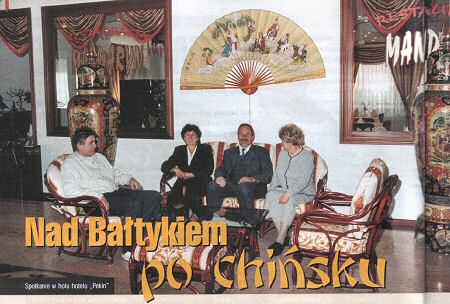 Absolutely. Last year we hosted the world famous Chinese art team of people with disabilities. Then they gave two concerts, one in the Congress Hall in Warsaw, and the second in the Centennial Hall in sopot.
Polish citizens are also visiting?
We hosted people from the world of Polish politics, President Aleksander Kwasniewski, Deputy Prime Minister Jozef Oleksy and a whole galaxy of artists
Where did you get the idea for the name of the hotel?
It's a complete coincidence. I am running Chinese restaurant for the past 11 years , which is also called Beijing. After a while I concluded that it would be good to have a hotel next to it. In this case, could not be anything else than that. We had to keep the Chinese direction.
Are Chinese willing to eat in yours restaurant?
They feel here like at home. They do not see any difference between the dishes prepared in their home country and those in our restaurant. It is no secret that the strength of our kitchen are Chinese cooks employed in the restaurant . They have first-class cooks diplomas from China. Highly skilled in their profession. I think it is impossible to conduct a national restaurant with a good level without having chefs from that country.
Do you know what dish are usually ordered by consumers?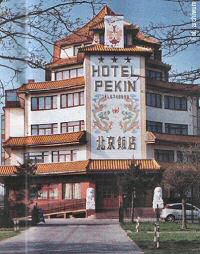 We have a very varied menu, but our guests usually choose the si chuan pork.
The hotel's location Wladyslawowo is probably surprising choice to many people?
Certainly is good in summer, but in the remaining months you need to look for something to attract visitors. As a hotel we have organized and we support various conferences and training courses.
In what "Beijing" is different from other hotels?
Here is like to enter another world. It retains the atmosphere of the Far East. Thanks to interior design. Marble decorative element imported from China, which lined the corridors, lobbies and hotel rooms. Original decorations are at the front door facing the Chinese rickshaws. Carpets were woven to order, just like lacquer furniture. The tiles were manufactured by the company, which continues the tradition of hand made tiles for one thousand two hundred years, another thin interesting about it is that it was made in the imperial color, like the roofs of the Forbidden City.
What made you so much interested in China?
After returning from the contract in the United States i went to China. I liked it so much that until now have close contacts with many Chinese. Contacts are not only associated with running the restaurant and hotel. I also export food products to China. From some time we are also importing Chinese spices to Poland. They are definitely better than those that can be bought on the Polish market. We offer products directly from China, not packed in the Netherlands or in another Western European country – it's certainly not the original quality of the spices.
You are involved in the promotion of China in our country …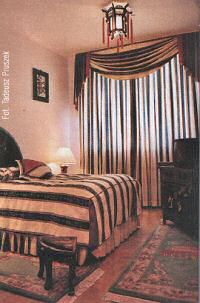 I really like China and I would like Poland to be more open in that direction. Is necessary to make bigger concessions in granting tourist visas to Chinese citizens. There is a very strong interest in our country. I can already guarantee 20 groups of 30-40 Chinese tourist every month, and that people who have money and want to explore our country and not only thinking of staying here permanently. On the other hand we have not too much idea about China. Few people know that the economic growth of this country is eight or nine per cent of GDP annually. They are really are growing very rapidly. At present, China is the third power of the world. To promote knowledge of the Far East, and make common contacts Polish-Chinese Friendship Society was reactivated. CEO of the organization is Zdzislaw Goralczyk, former Polish ambassador in Beijing, currently advisor to Prime Minister for China and Asia, while me have the honor of being chairman of Pomeranian branch of the Association
What interesting in the near future will be waiting for guests of "Beijing"?
In the first half of May, we will organize at the Day of Chinese. It will be a demonstration of broad culture of the Far East. Patron of the event became Ambassador Extraordinary and Plenipotentiary of the Republic of China, Mr. Yuan Guisen. With attractions prepared by us will benefit all stakeholders, not just hotel guests
Interviewed JUUAN GROTH
Polish news 17/435