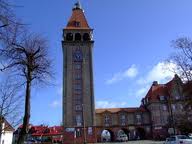 Entering the Wladyslawowo from the Tri-City, on the horizon draws a monumental building with a high spire … This "House of the Fisherman" is often mistaken with the church.
Built in the style of socialist realist in the mid-fifties, was supposed to be hotel, for fishermen. For holiday-makers are often held here shows (eg, handicraft exhibition Kashubian excellent sculptor Leo Golla).
Today it houses the city council and an independent healthcare center.
Fisherman House is the tallest building in Wladyslawowo. With good visibility you can see the skyline, the Hel Peninsula and lighthouse in Rozewie …
There we have an observation deck that rises to a height of 45 meters.
For lovers of heights, and even better views,  "bull" is also available on the tower the Fisherman's House. There are no longer gadgets in the form of binoculars, but the view compensates us this little inconvenience…