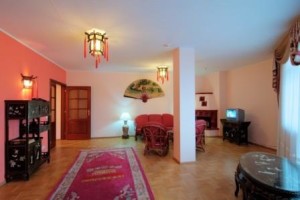 We offer 36 very comfortable rooms, single and double rooms and 6 comfortable apartments.
The quantity of rooms and suites are not without significance of figure 6,according to chinese believes 6 means good luck in business as well as harmony, truth and balance.
Rooms and suites are furnished with original Chinese lacquer furniture, inlaid with soap stone. Oak parquet floors line the colorful woolen carpets, tailor made in a workshop on the outskirts of Beijing, and the room lights are original Chinese lanterns.
Rooms are from 18 to 25 m2 and bathrooms are featured with a bath with shower.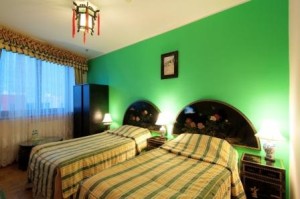 Spacious two bedroom apartments are from 60 to 80 m2.
In addition to a comfortable King size bed in the bedroom, suite also features a lounge with wood-burning fireplace ,in the bathroom you can find a Jacuzzi tub and shower. An additional advantage of the apartments located on the first and second floor are terraces .
Features on each floor are different in terms of thecolor. Depending on the floor, fireplaces, carpets, curtains and bed covers are red, green or blue.
The standard equipment of our rooms includes comfortable beds, telephone, satellite TV, and Internet access. So that you can enjoy round the clock access to a global network and its resources, both during work and leisure in our hotel.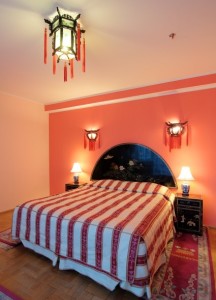 Number of rooms by type:
3 single rooms
27 standard double rooms with separate beds
4 double lux rooms with double bed
2 double lux rooms with two double beds
6 two bedroom apartments with double bed
The double lux rooms and apartments there is a possibility to add an extra bed, and for families staying with young children a baby bed.
The hotel is suitable for the disabled.
Hotel day begins at 14:00 and ends at 11:00 the next day.