Beijing with a view of the Baltic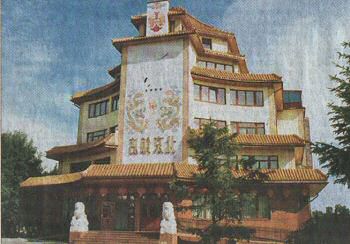 In many cities of the world you can meet buildings modeled on the architectural achievements of other cultures. It happens that their differences from the local building remains controversial among urban planners, but because of that they become great interest of tourists. With the unusual architecture Beijing hotel in Władysławowo has now become one of the most characteristic building on the Polish coast.
The body of the building refers to the principles of Chinese architecture. Surprisingly, not only the original shape, but also attention to details that we can find in the elements and finishing materials. 70 percent of the hotel's facilities are Chinese products.
Everything from China
The roof is lined with beautiful hand made, ceramic tiles imported from the north factory located on the north of Beijing , the factory boasts of 1,200-year tradition in production of such products. Attracted the attention of passers is four floors-high, large color mosaic which occupy the area of 120 sqm. Made from ceramic tiles. It shows two dragons playing with a fire ball and above it hotel name in Chinese. At the height of the fifth floor is a second smaller mosaic, showing two fishes, symbolizing luck and longevity. Both compositions were designed by a friend of the investor , Chinese artist who also helped to make the order in Chinese ceramic factories. Granite staircase and marble lions guarding the entrance to the hotel are also imported from China. These sculptures are copies of the Winter Palace in Beijing. White marble on the floor comes from the Canton
Furniture and trinkets
The hotel has 3100 square meters and its volume is 12 thousand. cubic meters. In the basement a poll with wave, wellness center , plastic surgery and a conference room with an area of 120 sqm will be build in the future. Finishing works will continue until next year. The ground floor is air-conditioned hotel lobby, reception, mandarin restaurant, bar, hairdressing salon and a souvenir shop. The spacious lobby adorned with Chinese goods and decorations.
The first three floors are occupied by guest rooms . There are 42 rooms, fourteen on each floor, including six two bedroom apartments, which extra attraction are wood fireplaces. Four suites are 60 square meters, and two 80 sqm. In Beside that hotel posses 24 double rooms and 12 standard rooms, equipped with a wide double bed.
Rooms are from 18 to 25 sqm. Inside bathrooms have a bath with shower. The apartments have a separate shower and bath with Jacuzzi. Most of the furniture and goods inside the rooms are original Chinese products. Flooring planks line the colorful woolen carpets, hand woven in a workshop on the outskirts of Beijing. Amenities in the rooms on each floor is different in terms of color. Depending on the floor fireplaces, carpets, curtains and bedspreads for beds and furniture upholstery are red, green or blue.
To ensure guests peace and quiet all the rooms have a double outer door. The fourth floor occupies large, centrally located café. On three sides it is surrounded by a conference room in the shape similar to the letter C. It can accommodate 300 people. Thanks to the use of moveable walls. Depending on your needs, can be divided into four separate rooms. With large panoramic windows in the conference room you have a beautiful panorama of the Baltic Sea.
Fifth, the top floor is a large presidential suite with an area of 110 sqm. It consists of four bedrooms, three bathrooms, including one with a Jacuzzi and a large kitchen. Apartment terrace is only available to guests occupying the fifth floor. The hotel has an elevator.
A day in double room (with breakfast and other meals to choose from: lunch or dinner) costs 168 or 189 zł plus VAT.
Not only hotel
Beijing Hotel was built in three years, designed by the architectural engineer. Stanislaw Skwiercz from Gdynia. The investor is Paul Jajkowski, a resident of Gdynia. For ten years he deals with import of textiles, footwear and home furnishings from China. For eight years he also Run Beijing Chinese restaurant located in the immediate vicinity.
– The idea to start the restaurant, and then construction of a hotel of the same name came up several years ago with my fascination with China – says Paul Jajkowski. – I just love centuries-old culture of this country and its people. In recent years, I am extremely impressed with the dynamic economic development and changes taking place there. I would like to make my hotel, regardless of their basic functions, he also held the role of meetings of Polish and Chinese businessmen.
Jajkowski appreciates the assistance of the former Polish ambassador in Beijing, Zdzislaw Goralczyk, consul general in Beijing Tomasz Skowronski, Consul General in Guangzhou Edmund Kaczmarek and commercial counselor in Hong Kong Roman Morawski. These people helped him in connection with direct contacts with producers and artists, performing equipment for individual orders.
Jerzy Niemociński
Rzeczpospolita 177 (5647)