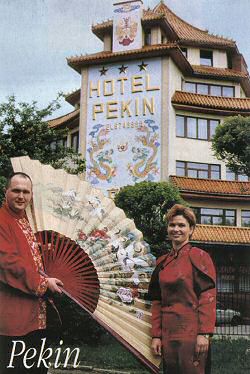 This is undoubtedly the best Chinese restaurant on the Coast. Founded in Wladyslawowo eight years ago (the hotel of the same name emerged only recently) and I had no clue how it happened that for so many years passed over this place, although I've heard about him much good. It is also a rare example of attention to authenticity and the absence of any "shortcuts" (Chinese cooks ownership changes about every two years, when starting to prepare meals for "Polish taste"). The card itself is a classic and the best cuisine from Shanghai, Sichuan (most severe), and Beijing, which Europeans are able to accept.
In the card all the possible tones of the Orient, which is about 80 dishes. It is also certainly one of the few places in Poland where you can order (day before) the famous Peking duck: beautifully browned pieces of meat, but rather a crispy crust, which is putting them inside the pancake of rice flour, soy sauce smeared along with pieces of fresh leek. Taste of the duck once reveled in Beijing and I ordered it mild apprehension in Wladyslawowo, fearing that this would be a substitute for the original (as it turned out, quite wrongly).
For those who enjoy gastronomic journey to the land of taste, I recommend jellyfish salad, served with fresh cucumber and fragrant soy sauce and garlic, which is hard to find in Chinese restaurants in Poland. I also recommend the pork knuckle, "from which had escaped fat" (prepared using it for 6 hours), and tripe served in Cantonese style (as a dish, not a soup) and fried Chinese mushrooms with bamboo. The best option (especially if there is a larger group) a few dishes – during the Chinese banquet, you may receive up to 30 and try everything, sitting at a table with a rotating wheel in the middle, where the waiter puts the dishes of food. Finish the dessert feast with very striking name "The ants walking on a tree" (those who were disgusted by this name reveals that it is a bean noodles fried crispy, sprinkled with sesame seeds and poured with honey). Prices of main courses from 18 to 40 zł (most expensive is the Peking duck – 100 zł).
The appearance of the room ***
The service ****
Taste food ****
Aesthetics of Food ***
Rating scale from * to ****
Text: TERESA KOKOCIŃSKA
The success of 8 (136)